Proton therapy for breast cancer reduces radiation exposure to the heart and lungs
In addition to reducing toxicity, proton therapy improves the precision and control of treatments, avoiding unnecessary side effects of the skin and otherwise healthy organs. In most cases, this treatment is compatible with patients' day-today activities because the sessions are consecutive over 5 to 15 days, are held on an outpatient basis, and last only between 10 and 20 minutes.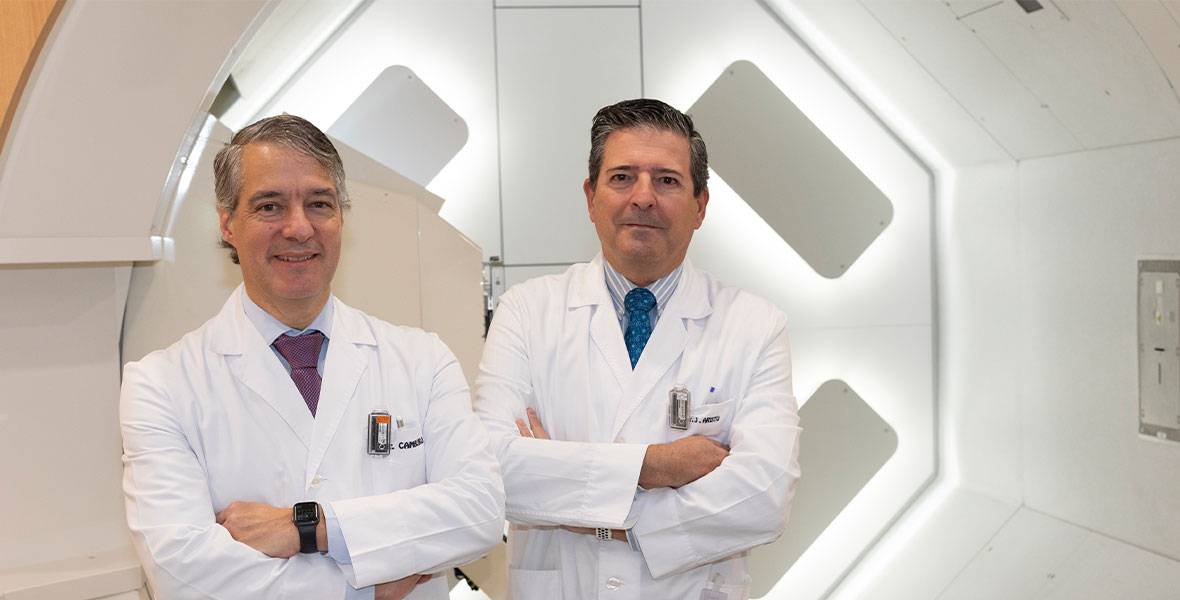 As confirmed by the medical team at the Clínica Universidad de Navarra Cancer Centre Proton Therapy Unit during their first three and a half years of activity in Madrid, proton therapy is a highly efficient treatment for patients with breast cancer types with an indication for radiotherapy.
Both radiation oncologists and medical oncologists have observed that external radiation therapy is advantageous because it reduces damage to healthy tissues and avoids unwanted effects on critical organs close to the breast such as the skin, heart, and lungs. In addition, this type of radiation is also less likely to impact the lymphatic vessels.
According to Dr. Mauricio Cambeiro, specialist in Radiation Oncology at the Clínica Universidad de Navarra Cancer Centre who specialises in treating breast, gynaecological, and prostate cancers, "the application scenario for proton therapy treatment in breast cancer is very broad: it ranges from early and localised tumours with a very favourable prognosis, to high-risk tumours with lymph node involvement."
Regarding the advantages of external radiotherapy, which reduces the risk of complications in the short and long term, including in possible secondary tumours, Dr. Cambeiro highlighted "the benefit of reducing toxicity on the healthy areas of each patient in the long term, considering that a large percentage of these patients will be cured or have prolonged survival rates."
In selected cases of recurrent breast tumours, proton therapy may be a treatment option for patients who have already received conventional radiation therapy in an area close to a tumour recurrence. Additionally, proton therapy allows for more tailored dosimetry distributions in patients undergoing breast reconstruction after mastectomy.
Regarding the side effects of proton therapy in breast cancer, he emphasised that "they are similar to those that occur with conventional radiation treatment. They can be acute or chronic. Even so, this treatment dispenses with unnecessary irradiation of all the surrounding healthy tissue, and that is more positive."
Proton therapy also allows the treatment to be compatible with the daily activities of most patients. As Dr. Cambeiro highlighted, "the sessions last from 5 to 15 days. They are consecutive, done as an outpatient, and take between 10 and 20 minutes."
A comfortable treatment with international echo
María del Carmen Rocha was a finance executive in Peru and is now a life coach. In April 2022, she was diagnosed with breast cancer and in January 2023, she finished her treatment in the Clínica Universidad de Navarra Cancer Centre Proton Therapy Unit. Many factors influenced her decision to fly to Madrid for therapy, including the technical quality, medical prestige, and good reputation for personalised treatment at the centre. Although she missed her "family support network," the adventure and investment were worth it for her and many others.
In her testimony, which also serves to help and motivate other patients, María del Carmen said: "During the sessions, I noticed how I was myself, with personalised diagnosis and treatment adjusted to my needs. My technical team were always in extremely high spirits. Feeling that positive energy of 'yes, it's possible' and 'we're here with you' was great for me. Each proton therapy session was like a visit to space. From the start, I psyched myself up by telling myself that I was not coming to do chemotherapy or radiotherapy but rather, I was going to a spa where I had to relax, because I was in incredibly good hands."
Pioneers of proton therapy in Spain
The Clínica Universidad de Navarra Cancer Centre Proton Therapy Unit began working in April 2020 at the Clinic's Madrid headquarters and was the first facility with an intrahospital configuration in Spain. Since then, it has treated 710 patients from 18 different autonomous communities. Of these, 137 came from 25 different countries. Of all the patients, 229 were aged under 18 years and 40 of those were international patients. Specifically, during these first three and a half years, more than 24 different types of tumours have been treated there, with the most prevalent being paediatric cancers (26%), sarcomas (20%), and head and neck tumours (20%).