Pediatric Cancer
"Early detection and accurate diagnosis, coupled with appropriate treatment, can improve survival and quality of life in the short and long term".
DR. ELENA PANIZO COORDINATOR. PEDIATRIC CANCER AREA
The Pediatric Cancer Area of the Cancer Center Clínica Universidad de Navarra is a multidisciplinary unit that cares for patients between 0 and 18 years of age with oncological pathology and hematological disorders.
Our mission is to provide our pediatric patients with quality care centered on the family. We offer individualized care, according to the specific needs of the patient, always maintaining the highest standards of excellence and innovation. For this purpose, we have reference professionals in our areas of specialization (brain tumors, sarcomas and hematological tumors).
We have the most advanced technology in the field of diagnostic imaging, as well as in molecular diagnostics. We have the infrastructure and the necessary means to offer differential therapies. Among them, proton therapy, the most precise and advanced radiotherapy modality, stands out. All this is framed in an environment of service and comprehensive care, which would not be possible without our nursing staff, who do an excellent job of care and monitoring of patients.
We are a unit that aims to provide the most advanced and effective care to pediatric oncology patients. Our goal is to improve their survival and quality of life, while accompanying the patient and his or her family throughout the vital process involved in the diagnosis of cancer in a child.

Second Opinion,
peace of mind
Request a second opinion from our professionals with great experience in the diagnosis and treatment of oncological diseases
In 3 days, without leaving home.
Diseases we treat
We treat all pediatric oncological and hematological pathology, being especially specialized in central nervous system tumors, bone tumors and hematological tumors. Tumors of the Central Nervous System
Choroid plexus carcinoma, craniopharyngioma, ependymoma, glioma (low and high grade, DIPG), medulloblastoma and other embryonal tumors.

Tumors
Bobnes
Osteosarcoma, Ewing's sarcoma, chondrosarcomas, giant cell tumor and soft tissue tumors. Hematological Tumors
Leukemias, Hodgkin's lymphomas and non-Hodgkin's lymphomas (Burkitt's lymphoma, lymphoblastic lymphoma, diffuse large cell lymphoma and other lymphomas).
Highly specialized multidisciplinary teams
We offer a differential treatment aimed not only at increasing the child's survival, but also at reducing short and long term morbidity and mortality.
Diagnosis
In the Pediatric Cancer Area we work in close collaboration with essential services such as Radiology, Nuclear Medicine, Anatomic Pathology and Genetics, being able to perform precision diagnoses in a short period of time.
We are the most technologically equipped private center in Spain and thanks to this, we offer the maximum diligence and comfort to our patients as it allows us to perform the necessary diagnostic tests in less than 72 hours.
Among other advances, we have 3 Tesla MRI that allows a more accurate diagnosis and dual-source CT, ultra low radiation dose, which significantly reduces the radiation dose received by pediatric patients who undergo repeated CT scans. We also have PET-CT, scintigraphy and ultrasound studies available on a daily basis.
Currently, we have integrated molecular techniques into the diagnostic process, allowing us not only to support the anatomopathological diagnosis, but also to better characterize the disease and, in certain situations, to adapt a personalized treatment.
Treatment
Brain tumors, technical advances during surgery, such as the use of the fluorecrescent surgical microscope, neurophysiological monitoring in the operating room and the availability of intraoperative MRI to guide the surgeries, mean an increase in the percentage of total removals and a clear decrease in complications.
In bone tumors, the use of intra-arterial chemotherapy together with the performance of limb preservation surgeries, improve the quality of life of our children. In addition, close work with the Rehabilitation Unit enables early recovery of limb functionality.
Hematological tumors, we work in coordination with the Department of Hematology and Hemotherapy and the Cell Therapy Area, both units being experts in the development of treatments based on the use of Cell Therapy, including transplantation of hematopoietic progenitors, adoptive cellular immunotherapies such as CAR-T cells, dendritic cell vaccines, or activated lymphocytes for the treatment of infections. The accumulated experience in performing both autologous and allogeneic (related, unrelated and haploidentical) pediatric transplants is a guarantee of success.
Proton therapy against cancer
Proton therapy is the most precise external radiotherapy modality, providing better distribution of radiation dose and therefore less irradiation of healthy tissues.
The Proton Therapy Unit of the Cancer Center Clínica Universidad de Navarra in its Madrid headquarters is the most advanced in Europe and the first in a Cancer Center, with all its healthcare, academic and research support.
SPECIALISATION
The value of experience
At the Clínica Universidad de Navarra, we have treated nearly a thousand malignant primary bone tumours over the last twenty years. In osteosarcoma, to cite the most common, the survival rate is 74% at 10 years, with a limb preservation rate of over 90%.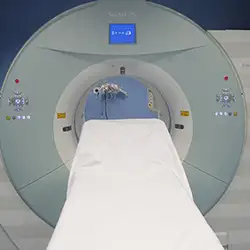 Precision surgery
In order to cure a malignant bone tumour it is necessary to remove the entire lesion, including the path of the previous biopsy. This is the reason why it is necessary for that biopsy to be performed by the surgeon who will carry out the definitive operation.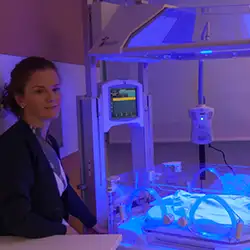 Teamwork
It is necessary to unite everyone's efforts in order for each patient to be treated by a team that discusses and follows each case in particular in order to avoid any delays that may condition the effectiveness of the treatment.

Experience
The Clinic is one of the European centres with the greatest experience in musculoskeletal tumours and that offers one of the highest rates of preservation of the patient's limb in the world.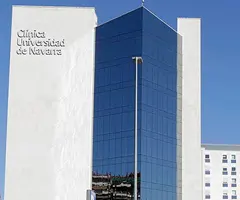 Why choose the Clinic?
Integral evaluation of the patient.
Cutting-edge technology.
International reference professionals.

Our team of professionals
We keep on everyday researching in order to find solutions
Research against
musculoskeletal tumors
The Clinic, in collaboration with the Cima Universidad de Navarra, is looking for innovative treatments, which will make it possible to overcome the cure rate obtained so far.
As a result, there are numerous publications, many of them in collaboration with the most renowned researchers worldwide in this field.
Participation in these trials provides patients with new possibilities by allowing access to the latest therapeutic advances