Social Work Unit
"When a patient and his or her family receive a cancer diagnosis, in addition to excellent medical care, they need the socio-familial support to manage to cope with this situation."
MS. AINHOA ELIZALDE MUNÁRRIZ TRABAJADOR SOCIAL. SOCIAL WORK UNIT
The Social Work Unit within the Cancer Center Clínica Universidad de Navarra is aimed at detecting needs and social problems that occur or are aggravated by the oncological disease.
It helps to respond to the integral care of the cancer patient and works with families to develop their own abilities so that they can face difficulties and find solutions by participating in the process themselves.
The Cancer Center's social workers provide information and advice to patient and families about available resources, as well as support in the processing and management of any needs that may arise.
Likewise, the team of social workers participates in the weekly sessions of the team of professionals from the different areas of the Cancer Center where the objectives with each patient are defined and if social intervention is required according to the needs detected.
How do we work in the Social Work Unit?
We are part of the care team that attends to the oncology patient and we carry out a social assessment to define an intervention plan according to the needs detected.
Medical team
Each patient has a responsible referring physician in charge of identifying needs and coordinating patient care.
Nursing team
Responsible for the care and follow-up of patients, both in consultation and hospitalization, they are a fundamental part in detecting the social needs of the patient.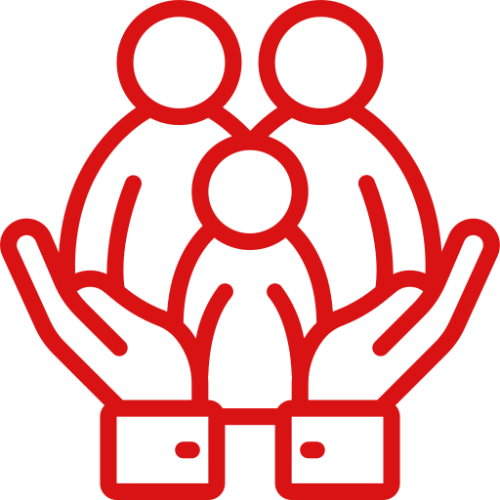 Social Work Team
We elaborate a personalized plan for each patient that covers the psychosocial needs detected, providing the personal and family support needed.
In what areas can we help?
Personal care: after the assessment, it will be detected whether the patient has difficulties in adapting to the new situation, whether he/she has difficulties in communicating or understanding with medical professionals and whether he/she needs attention from other Cancer Center support units: clinical nutrition, psycho-oncology, palliative care, etc.
Family care: support will be offered to families to face the new circumstances, helping them to reorganize care, define roles and responsibilities of each family member and favor a climate of communication. Special attention will be given to overprotection or family claudication in the care of the cancer patient.
Social care: we will analyze if there is little family and/or social support, if there is social isolation or unwanted loneliness due to the disease. In addition, an assessment will be made of whether there are limitations and/or geographical barriers that prevent access to primary resources.
Attention to housing: it will be detected if the housing is not adequate or if there are architectural barriers that hinder the patient's care and/or mobility.
Attention to labor or economic impact: in view of the decrease in income and increase in expenses due to the clinical treatment, a socioeconomic evaluation will be carried out in order to orientate the patient towards the subsidies offered by the public organizations to which he/she may apply. Information will be provided on procedures with the social security for benefits and reinforcement with aid from the social services to attend to specific situations.
Our team of social workers