Lung Cancer
"Performing an annual chest CT scan on people at risk helps to reduce lung cancer mortality".
DR. MARÍA RODRÍGUEZ PÉREZ COORDINATOR. LUNG CANCER AREA
The Lung Cancer Area of the Cancer Center Clínica Universidad de Navarra is an interdisciplinary unit with more than 35 years of experience, focused on the diagnosis, treatment and research of intrathoracic tumors.
Our aim is to make available to our patients all our human and technological resources, as well as our knowledge, to provide the best possible treatment and care, adapted to the characteristics of each patient.
It is integrated by the various teams of specialists involved in the diagnosis and treatment of thoracic neoplasms including molecular biologists, basic and translational researchers, pathologists, radiologists, biochemists, nuclear medicine specialists, thoracic surgeons, pulmonologists, radiation oncologists and medical oncologists, mainly.
The integration of new generation genomic studies with massive sequencing panels both in tissue and in liquid biopsy, allows the exhaustive characterization of the tumor and the selection of the best therapeutic options for each patient.
Among the therapeutic options available, together with the most advanced minimally invasive and robotic surgery techniques, we have the most advanced selective irradiation technology, including proton therapy, as well as the Central Clinical Trials Unit and the Advanced Therapies Unit.

Second Opinion,
peace of mind
Request a second opinion from our professionals with great experience in the diagnosis and treatment of oncological diseases
In 3 days, without leaving home.
Advanced diagnosis and treatment
IN NAVARRE AND MADRID

DISEASES
Thymoma and thymic carcinoma

Chest wall tumors

DIAGNOSIS PROCEDURES
Echobronchoscopy (EBUS)

Biopsy by EBUS / esophageal echoendoscopy (EUS)

Biopsy by bronchoscopy by Electromagnetic Navigation System

Image-guided transthoracic biopsy

Surgical biopsy

Pathological anatomy

Biochemical tests

Liquid biopsy

Genomic characterization TREATMENTS
Minimally invasive surgery

Robotic surgery

Parenchymal sparing surgery

Chemotherapy

Targeted therapy

Intensity modulated radiation therapy (IMRT)

Volumetric modulated radiation therapy (VMAT)

Stereotactic radiotherapy (SBRT)

Prophylactic brain irradiation, with hippocampal protection
Personalized treatments for better care
IN NAVARRE AND MADRID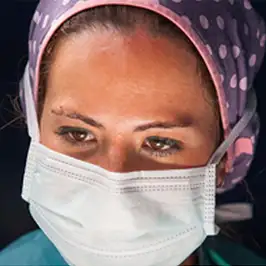 Specialized nursing
We have an expert nursing team that collaborates in the process of the patient and his family. We develop a specific care plan during the treatment and we make a continuous follow-up, establishing a fluid communication between the patient, the family and the medical team. In addition, the nursing team coordinates the clinical cases of each patient individually.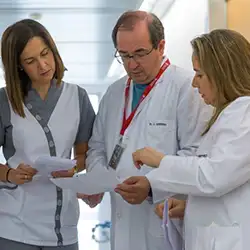 Comprehensive care
The patient, in all his spheres, is the reason for our performance. Therefore, we focus all our efforts not only on treating the disease, but also on treating the whole patient.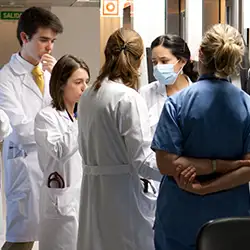 Interdisciplinary
This type of approach integrates all areas of knowledge involved in these pathologies (molecular biologists, pathologists, radiologists, radiologists, clinical biochemists, nuclear physicians, thoracic surgeons, pulmonologists, nurses, radiation oncologists and medical oncologists). This integration of highly qualified professionals makes it possible to achieve a consensual and personalized approach for each patient.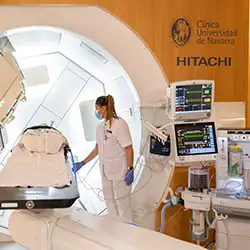 Protontherapy
It is a high-precision radiotherapy technique. Thanks to the use of protons, we can avoid unnecessary irradiation of healthy tissues as much as possible, and thus reduce toxicity, thus being able to offer a high quality treatment at the forefront of radiotherapy.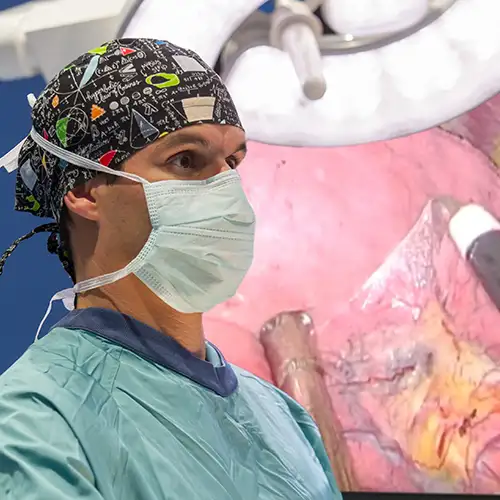 High surgical specialization
Expert specialists in minimally invasive surgery, including thoracoscopic and robotic surgery. We also have hybrid operating rooms, allowing the location and resection of nodules in the same act. Our team has extensive experience in lung parenchymal sparing surgery.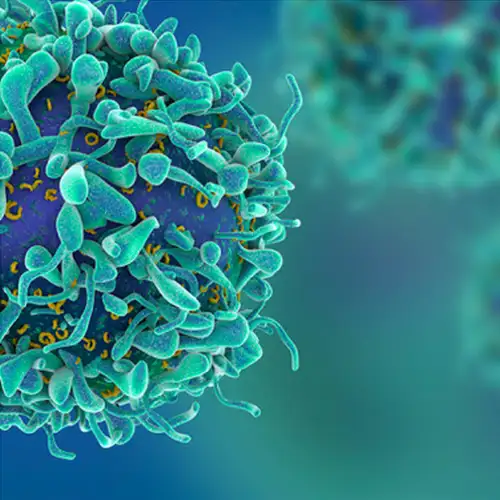 State-of-the-art in systemic treatment
Highly developed systemic therapies are available to our patients including combinations of immunotherapy, targeted therapies and new forms of "smart chemotherapy". The use of these therapies are tailored to the molecular characteristics of our patients thanks to our center's advanced molecular diagnostic platforms.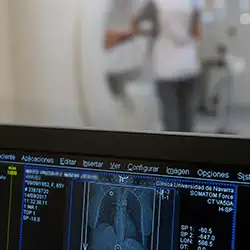 Early diagnosis
For more than 20 years we have been pioneers in Europe in early diagnosis through the use of low radiation CT.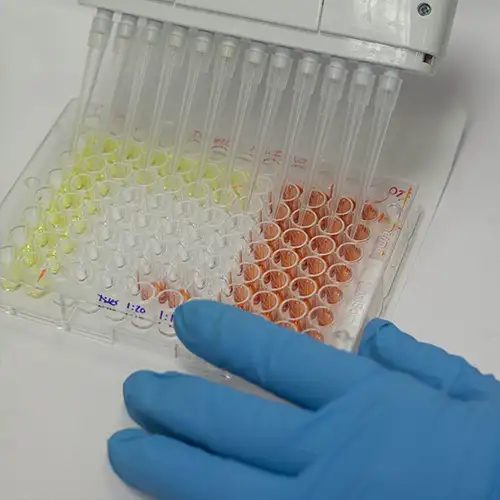 Research
We have a large number of clinical trials that offer our patients various therapeutic alternatives, such as immunotherapy or targeted therapies. We also investigate new diagnostic and treatment strategies using state-of-the-art technologies and models.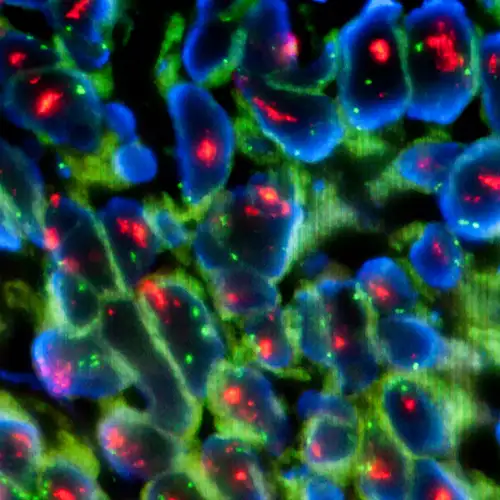 Precision medicine
Using Next Generation Sequencing, we study the genetic information contained in tumor cells to tailor treatment and establish the potential risks for each patient.
PREVENTION AND PERSONALIZED TREATMENT
Comprehensive patient care
The objective of the Lung Cancer Area of the Cancer Center Clínica Universidad de Navarra is to offer the patient the vision and the joint and integrated work of the different specialists involved in the diagnosis and treatment of lung cancer. We work together in order to ensure the rapid resolution of your problem.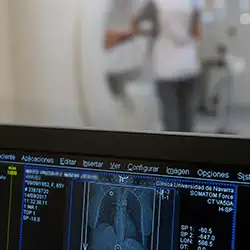 Early detection
In our annual low-dose radiation CT early detection programme, 85% of lung cancers detected are at stage I, with a high probability of cure.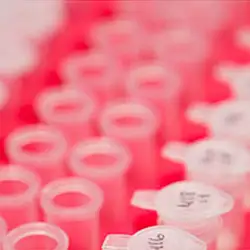 Liquid biopsy
With a blood test we detect the specific genetic mutations of the tumour and establish a specific treatment that is more effective and less toxic.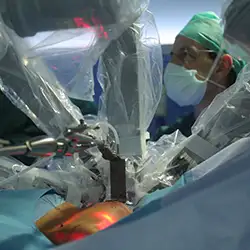 Cutting-edge technology
We have the most advanced technology for the diagnosis and treatment of lung cancer. We have the Da Vinci® robot to perform, in the indicated cases, a precision approach.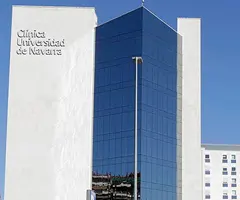 Why choose the Clinic?
Integral evaluation of the patient.
Possibility of starting personalised treatment 48 hours after the first consultation.
Minimally invasive surgery for the rapid recovery of our patients.
Our team of professionals.
Our team of professionals
Experience in studying the use of immunotherapy and the development of advanced therapies against lung cancer
Research into
lung cancer
The Respiratory Tract Tumors Area investigates the main lung tumors in order to advance towards improving the quality of life and survival of patients through the development of early detection strategies and more personalized and precision treatments.
Our research groups are formed by clinicians and expert researchers of international prestige.
We help our patients to overcome their stories
Their testimonies encourage us to continue improving our services