Radiotherapeutic Oncology
"The techniques applied in the Radiation Oncology at the Clínica Universidad de Navarra are of the latest generation and are currently only available in a few centres in Spain".
DR. FELIPE CALVO CODIRECTOR. RADIOTHERAPEUTIC ONCOLOGY DEPARTMENT
The Clinic´s Department of Radiotherapeutic Oncology has extensive experience in external and intensity-modulated radiotherapy. In addition, we apply various medical-surgical techniques of latest generation that are currently only present in few Spanish centres.
The Clinic has, at its headquarters in Madrid, the most advanced and first in-hospital Proton Therapy Unit based in a cancer centre, which offers all its healthcare, academic and research support and the services proper to a third level hospital.
We are one of the international benchmarks in the performance of intraoperative implants and radiation treatment with high rate brachytherapy technique during the post-operative period. Moreover, we have one of the most extensive experiences worldwide in the treatment of intraoperative brachytherapy of head and neck tumours, soft tissue sarcomas and gynaecological tumours.
We use radiotherapy under stereotaxic conditions, which allows us to apply several treatment sessions under very high precision conditions.
A highly specialised nursing team provides comprehensive medical care through coordination, assistance, control and monitoring of the various symptoms and side effects.

Second Opinion,
peace of mind
Request a second opinion from our professionals with great experience in the diagnosis and treatment of oncological diseases
In 3 days, without leaving home.
Advanced treatments for better care
IN NAVARRE AND MADRID
3D External Conformal Radiotherapy

Intensity-Modulated Radiation Therapy

Stereotactic Radiotherapy

Intraoperative Radiation Therapy (LIAC)
Interstitial brachytherapy

Intracavitary brachytherapy

Intraoperative brachytherapy
1 unit of Proton Therapy.

4 linear accelerators.

Intraoperative Electron Beam Therapy (miniaturized accelerator)

conformation systems with multi-laminas and 1 with micro-multilaminas.

Planning CT image / CT exclusive radiotherapy 4D / CT Fusion System - MRI / PET.

Gammamed high dose rate brachytherapy.

Very low dose rate brachytherapy / Oncura 125 Iodine seeds.

TAC room convertible into radio-operative room to perform verification, registration and dosimetric calculations.

Personalized Planning in External Radiotherapy (ADAC), Intensity Modulated (ADAC/konrad), Radiosurgery (Brainlab).

Fractionated stereotactic radiotherapy.

Image guided radiotherapy (IGRT): Cone Beam CT (CBCT) and fiducial marks.

Organ movement control systems: breath-hold and tracking.
The Clinic opened the most advanced Proton Therapy Unit in Europe at its headquarters in Madrid.
Proton therapy provides very promising results with minimal side effects in pediatric tumours, and those of the skull base, brain, head and neck.
It incorporates, for the first time in Europe, a Hitachi device, that is present in academic medical centres of international reference.
DIAGNOSIS AND PERSONALIZED TREATMENT
Comprehensive assistance
Radiotherapy is an omnipresent procedure that we always personalise according to the characteristics of the patient and each particular illness. Our main hallmark is the interdisciplinary approach to each patient.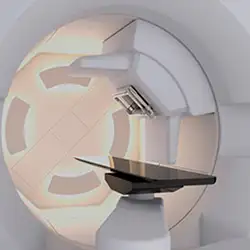 Cutting-edge
technology
With the aim of offering the best treatment to the patient, we have the most advanced linear accelerator for intraoperative radiotherapy, and other state-of-the-art equipment for external radiotherapy and brachytherapy.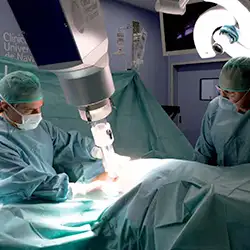 Teamwork
Our professional team stands out for its interdisciplinary treatment designed for each patient and for providing all the technological and pharmacological innovation needed to obtain personalised care.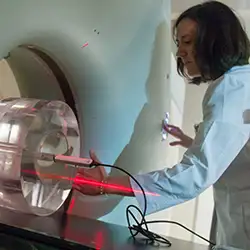 Security
and toxicity
We carry out constant quality controls and plan the treatment dose for each patient, calculating the irradiation with maximum precision and non-toxic, or practically non-toxic.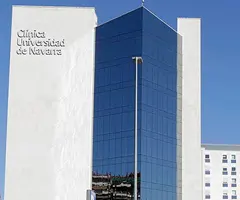 Why to choose the Clinic?
Over 35 years of experience.
International reference professionals.
Latest technology to offer the best alternative to our patients.
Our team of professionals
Our objective: maximum precision with minimum toxicity
Research work is a key element in improving medical care, thanks to which we are the Radiation Oncology department with the highest impact rate in publications in Spain.
Participation in these trials provides patients with new possibilities by allowing access to the latest therapeutic advances.
We help our patients to overcome their stories
Their testimonies encourage us to continue improving our services