Gynecological Cancer Area
"We evaluate each case in a weekly multidisciplinary session to decide on the most appropriate diagnostic tests and treatment for each patient".
DR. LUISA SÁNCHEZ LORENZO COORDINATOR. GYNECOLOGICAL CANCER AREA
The Gynecological Cancer Area of the Cancer Center Clínica Universidad de Navarra is a multidisciplinary unit focused on the treatment and research of tumors of the female genital tract.
We are accredited by the European Society of Gynecologic Oncology (ESGO) for surgery in advanced ovarian cancer.
We have professionals of recognized national and international prestige, considered opinion leaders in their field, who over the years have formed a team that places the patient at the center of its activity.
Our goal is to offer our patients individualized attention. To this end, we have a group of highly specialized professionals: medical oncologists, gynecologic oncologists, radiation oncologists, pathologists, radiologists, nuclear physicians, geneticists and specialized nurses.
This multidisciplinary approach allows us to personalize the treatment of each patient in a consensual manner, seeking excellence and innovation.

Second Opinion,
peace of mind
Request a second opinion from our professionals with great experience in the diagnosis and treatment of oncological diseases
In 3 days, without leaving home.
State-of-the-art diagnosis and treatment for gynecologic tumors
IN NAVARRE AND MADRID

DISEASES
Vaginal cancer

Vulvar cancer

Gestational trophoblastic disease

DIAGNOSIS PROCEDURES
Anatomopathological diagnosis with molecular study TREATMENTS
Surgical treatment. Cytoreduction

Chemotherapy, antiangiogenic therapy, and PARP inhibitors

External radiotherapy and intraoperative radiotherapy

Brachytherapy

Immunotherapy and new targeted therapies
Treating gynecological cancer at the Clínica Universidad de Navarra
WHY AT THE CLINIC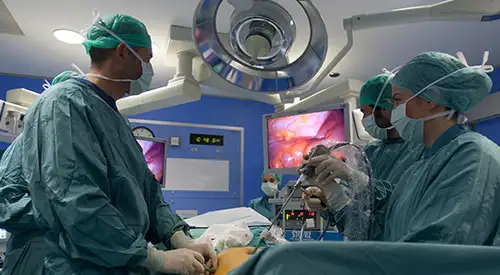 High surgical specialization
Expert specialists in cytoreduction surgery for ovarian cancer with the goal of removing all visible tumor to increase patient survival. When the disease has spread to the thorax or liver, we collaborate with specialists in thoracic and liver surgery to remove all the disease.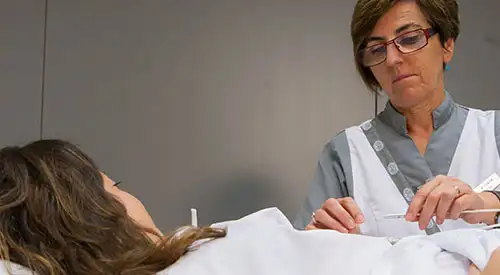 Focused on the patient
In cases where fertility preservation is possible, without compromising the oncological results, we apply specific surgical techniques to achieve a future pregnancy. In addition, we have implemented, together with the Anesthesia department, a program to promote better pain control and recovery after surgery.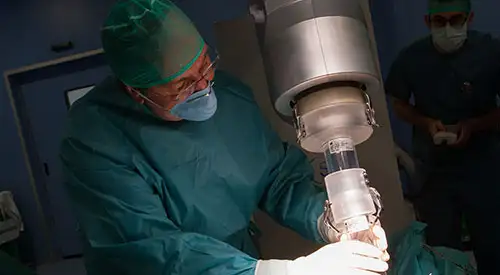 Intraoperative radiotherapy
High precision technique that is administered in a single fraction during the surgical act on the tumor bed or on the microscopic tumor residue, this allows respecting the surrounding healthy tissues and avoiding unnecessary radiation.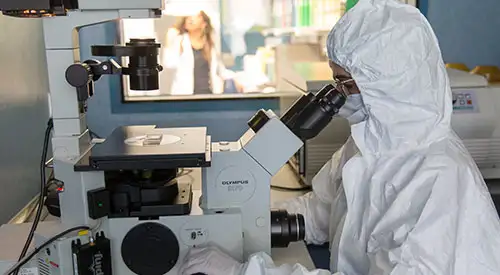 Innovation
We have all the systemic treatments available today: chemotherapy, anti-angiogenic therapy and PARP inhibitors. In addition, we are experts in innovative techniques such as selective sentinel lymph node biopsy to reduce the risk of complications such as lower extremity lymphedema.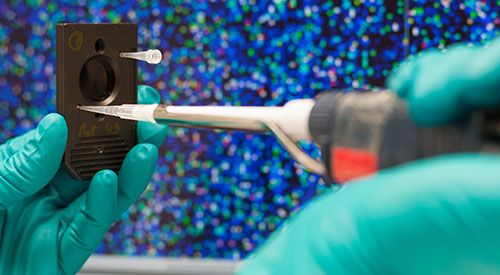 Genetic studies
Using Next Generation Sequencing, we study the genetic information contained in the tumor cells to adapt the treatment and establish the potential risks for each patient. If we detect any potentially hereditary mutation, we offer genetic counseling to the patient and her relatives.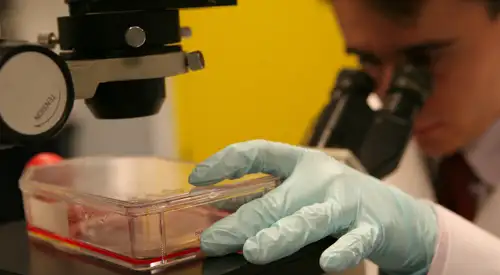 Research
We have a wide range of clinical trials that offer our patients a greater number of therapeutic alternatives. We are especially interested in the application of immunotherapy in gynecological tumors and personalized targeted therapies based on the molecular study of the tumor.
Our team of professionals
We support translational and clinical research to achieve the fastest and best outcomes for our patients.
Research against
gynecological tumors
We have a solid academic and research background. We encourage participation in multiple clinical trials.
Our lines of research are:
Mechanisms of resistance and sensitivity to PARP inhibitors.

Biomarkers associated with the immune response to chemotherapy and antiangiogenic therapies in ovarian cancer.

Biomarkers associated with the response to treatment with immunotherapy and PARP inhibitors in ovarian cancer.