Immunotherapy, cancer vaccines
"A vaccination effect on the spot is pursued. Our main hope is that the new treatment will work with other immunotherapy drugs already approved for clinical use or in development".
DR. IGNACIO MELERO BERMEJO CODIRECTOR. IMMUNOLOGY AND IMMUNOTHERAPY DEPARTMENT
Vaccines are medicines that strengthen the natural ability of the immune system to protect the body against pathogens, mainly infectious germs, that can cause disease.
The Clínica Universidad de Navarra is carrying out various treatment studies using dendritic cell-based immunotherapy in advanced neoplasms, such as metastatic colon cancer, which consistently show that it is possible to achieve a specific immune reaction against the tumor.
From a clinical point of view, these studies show that these cancer vaccines can be considered a safe, well-tolerated therapeutic strategy that does not generate an autoimmune response.

Second Opinion,
peace of mind
Request a second opinion from our professionals with great experience in the diagnosis and treatment of oncological diseases
In 3 days, without leaving home.
When is immunotherapy indicated in cancer?
Cancer vaccines are experimental and different strategies are still being developed to improve their effectiveness. They are being applied in clinical trials and, in certain cases, as compassionate use.
Their main use is in patients in remission after conventional treatments, where minimal residual disease may remain, or in those patients at high risk of relapse.
They are especially useful in some hematological diseases after standard treatments, because it is expected that in these cases vaccines can increase the time without disease or even prevent patients from relapsing.
Because of their low toxicity, they are also being tested in clinical trials in combination with other forms of therapy, such as hormone therapy, chemotherapy, radiation therapy and targeted therapies.

Advanced Therapy Unit
The Clínica Universidad de Navarra has set up an Advanced Therapy Unit to offer new cutting-edge cellular therapies against cancer and other diseases of the immune system.

Types of cancer under study:
Do you have any of these diseases?
Treatment with immunotherapy may be possible
Learn more about cancer vaccines
Immunotherapy based treatments consist of manipulating the immune system to attack the tumor. One of the most studied techniques is to use dendritic cells stimulated with antigens from the tumor itself.
Dendritic cells have been confirmed as the main antigen-presenting cells, playing a central role in the immune response. Therefore, they are the basis of attempts to achieve an effective anti-tumor immunotherapy treatment.
Dendritic cell immunotherapy has been proposed as an alternative to traditional cancer treatments (surgery, chemotherapy or radiotherapy). This treatment would have the advantage that it would be the body itself that would detect and eliminate the tumor cells, without the need for treatments that have harmful physical or psychological side effects for the patient.
Dendritic cells have been used in experimental studies to vaccinate against existing tumors.
For this purpose, dendritic cells isolated with tumor antigens are loaded, stimulated with cytokines and returned to the patient.
Then, the dendritic cells show the immune system tumors that already existed in the body but had not been recognized or fought as such, launching the immune defenses against the tumor.
The Immunotherapy group of the Cellular Therapy Area produces therapeutic cellular products of specific clinical utility for each patient.
Tumor infiltrating lymphocytes (TIL) with potential application in patients with kidney cancer, melanoma and other neoplasms.

Autologous dendritic cells loaded with the patient's own tumor antigens for application in a clinical trial of the Cancer Immunology and Gene Therapy Program.

This trial is aimed at the treatment of patients with hepatocarcinoma, renal cell cancer and malignant melanoma. Likewise, the Immunotherapy group is investigating its possible application in other types of tumors.
The manufacturing process consists of the extraction of blood cells, which are converted in the GMP laboratory into dendritic cells using appropriate techniques, mixed with fragments of the patient's tumour to capture their antigens and administered to the patient in an attempt to provoke an immune response.
What clinical trials do we have on immunotherapy, cancer vaccines?
Where do we do it?
IN NAVARRE AND MADRID
The Department of Medical Oncology
of the Clínica Universidad de Navarra
Prevention and early detection are the most effective weapons we have in the fight against cancer. Therefore, together with the Genomic Medicine Unit, we have five programs: breast cancer, lung cancer, colon cancer, melanoma and prostate cancer.
We have a Day Hospital, with highly qualified staff, which offers specialized outpatient care to oncology and hematology patients.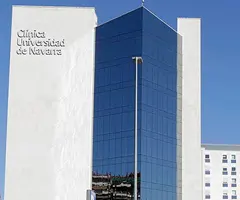 Why at the Clinica?
International reference experts in the diagnosis and treatment of cancer.
Leaders in oncological clinical trials to offer new therapeutic alternatives.
The most advanced technology on the market for cancer treatments.
Our team of professionals