Lung Cancer
"We carry out personalized treatments with new, more effective drugs, based on discoveries in molecular biology".
DR. LUIS ALFONSO GÚRPIDE AYARRA
SPECIALIST. LUNG CANCER AREA
Lung cancer occurs due to the exaggerated and uncontrolled spread of certain lung cells, which cause local problems by occupying space and compressing nearby structures. It can also spread through lymph nodes and/or blood vessels to other organs (distant metastasis).
There are two main types of tumor: non-small-cell carcinoma (85% of cases) and small-cell carcinoma, or microcytic cancer, which accounts for 15% of cases.
According to data from the Spanish Society of Medical Oncology, lung cancer is the third most frequent cancer in both men and women and has the highest overall mortality rate.
Given these figures, early diagnosis is essential. Diagnosis when there is no invasion of neighboring structures or distant metastasis is essential to curing this cancer in up to 90% of patients.
The Clínica has been a pioneer in Spain with its Early Lung Cancer Detection Program, which is led by a highly experienced team that provides fast, precise procedures with low-dose CT scans with reduced annual radiation exposure for at-risk populations. This has resulted in diagnosing 85% of early-stage lung cancers and curing patients through surgery.

Second Opinion,
peace of mind
Request a second opinion from our professionals with great experience in the diagnosis and treatment of oncological diseases
In 3 days, without leaving home.
What are the symptoms of lung cancer?
In almost two-thirds of cases, lung cancer produces no symptoms or very nonspecific symptoms (fatigue, loss of appetite or weight loss) or symptoms similar to other benign diseases. Therefore, in most cases, diagnosis occurs in advanced stages.
If symptoms appear, caused by local tumor growth and invasion of neighboring lung structures, a persistent cough, sometimes associated with bringing up mucous, is the most common symptom and occurs in 45–75% of patients,
Up to 50% of lung cancer patients also experience hemoptysis, or blood in the sputum. Another symptom is shortness of breath, usually because a mass is occupying lung space and thus preventing the proper entry of air.
On other occasions, symptoms arise due to the existence of distant metastases. These occur most frequently in the lymph nodes, bones, brain, liver and adrenal glands.
Lastly, there are a series of symptoms produced by so-called paraneoplastic syndromes, which originate from the secretion of certain substances by the tumor.
Do you have any of these symptoms?
You may have lung cancer
What are the risk factors?
Tobacco is the causative agent of lung cancer in over 80% of cases. In recent years, there has been a clear decrease in cases in men due to a reduction in smoking habits, while there has been an increase among women due to more women picking up this habit.
A chronic smoker's chances of suffering from lung cancer in their lifetime can be as high as 30%, while in non-smokers it is 1%. The risk depends on the number of cigarettes smoked per day and the number of years one has been a smoker.
By quitting smoking, the risk of developing lung cancer decreases as the years go by, although the risk remains high several years after quitting.
Other factors, in addition to passive smoking, include exposure to asbestos, polycyclic aromatic hydrocarbons, arsenic and nickel, as well as suffering from other lung diseases such as chronic-obstructive pulmonary disease and/or pulmonary fibrosis.
Stopping smoking
Seventy percent of smokers want to stop smoking definitively and express their intention to quit in the medium or long term. However, most encounter great difficulties in doing so.
Strong motivation on the part of the smoker is needed, with support from their family and friends. In most cases, several attempts to quit are needed.
Taking part in a program to quit smoking, such as the program provided by the Hospital, substantially increases the chances of success. Smokers receive support and follow-up from pneumologists and specialized nurses.
The program comprises a pneumology appointment, including a spirometry test and the use of maximally effective drugs where necessary, as well as a nursing appointment and personalized follow-up.
The program serves to reinforce personal motivational with the aim of helping patients to quit smoking once and for all.
How is lung cancer diagnosed?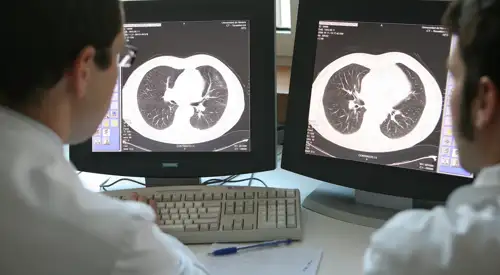 Some diagnostic imaging tests must be carried out to establish a diagnosis of lung cancer. These include:
Medical history with physical examination

General blood test

Chest X-ray

Chest CT

CT or MRI scan of the brain

PET

Pulmonary function tests
Also, in most cases, endoscopic studies are necessary to take a tissue sample and determine the type of tumor to be treated, as well as the prognosis and most appropriate treatments.
Bronchoscopy

Transthoracic biopsy

Endobronchial ultrasound bronchoscopy (EBUS)

Mediastinoscopy
The Hospital has a Lung Cancer Area comprising a team of multidisciplinary specialists and researchers from the Solid Tumors and Biomarkers Program at the Center for Applied Medical Research (CIMA). This genetic diagnosis unit carries out a detailed study of each patient's tumor, making it possible to create a bespoke treatment plan for each genetic alteration.
Early lung cancer detection
Our Early Lung Cancer Detection Program has been running for 20 years.
The program includes an annual chest CT scan to monitor and detect cancer in the early stages, when tumors can be cured.
How is lung cancer treated?
En el tratamiento del cáncer de pulmón resulta esencial contar con un equipo multidisciplinar que discuta cada caso de forma personalizada.
When lung cancer is localized, surgery is possible, and patients can be cured in a high percentage of cases.
To know whether surgery is possible, specialists must determine whether the lesion can be resected (cut out), as well as whether the patient can undergo surgery. Pulmonary function testing is carried out to find out if the inspiratory reserve remaining after surgery will be sufficient for the patient to breathe.
Existing surgical procedures to be considered:
Lobectomy: removal of a lung lobe. Applies for patients with an adequate inspiratory reserve. Minimizes the probability of a localized recurrence.
Pneumonectomy: removal of the entire lung.
Segmentectomy or wedge resection: removal of part of a lobe; performed on patients with diminished pulmonary function.
In cases where the disease has spread upon diagnosis, surgery may also be a valid therapeutic strategy in certain cases, i.e. when there is a limited number of metastases, good control of the primary tumor, and if the patient is a good candidate for surgery.
Robotic surgery consists of removing the pulmonary nodule through small incisions through which the robot's instruments are introduced. Thanks to robotic surgery, the surgeon performs the surgery through incisions that do not exceed one centimeter.
It is a minimally invasive surgery that allows us to perform operations that are much less aggressive for the patient, with a faster recovery, fewer complications and greater safety.
The use of the surgical robot allows greater precision, better vision and optimization of the treatment. It eliminates the surgeon's hand tremors and provides a 10x magnification vision.
The Clinic applies accelerated recovery protocols (ERAS) that seek to reduce pain, hospital stay and the appearance of possible complications associated with surgery. Through the multidisciplinary work of the specialists, highly trained in the latest advances available, the patient will experience an accelerated recovery that will allow him to resume his daily life more easily.
Chemotherapy administration has several therapeutic variants:
Adjuvant therapy: after a complete surgery in patients who have been operated on and cured.
Neoadjuvant therapy: prior to possible surgical resection with the aim of reducing tumor size.
Palliative therapy: in the context of diseases that have spread.
Currently, a histological and/or molecular diagnosis—as accurate as possible—is required to ensure that the chemotherapy type recommended is the best-possible option. Its survival benefit and toxicity risk should be discussed individually with the medical and nursing team.
The Hospital has a Palliative Care Service recognized by the European Society for Medical Oncology as a center of excellence providing comprehensive care to patients in association with their medical treatment so their chances of survival and quality of life are maximized.
Radiation therapy may be used as a combination treatment with chemotherapy for:
Patients with lung tumors that are inoperable due to their location and/or size.

Patients with operable tumors who are not candidates for surgical treatment.

Patients with metastasis, for symptom control (bone metastases that produce pain, brain involvement that causes seizures, etc.).
The Hospital has extensive experience in the administration of external and internal radiation therapy. At its Madrid location, it also features the most advanced Proton Therapy Unit in Europe and the first in a cancer center, with all the associated patient-care, academic and research support, and the services of a highly specialized hospital.
Immunotherapy, as a single treatment strategy or associated with chemotherapy and/or radiotherapy, is one of the great modern advances in the treatment of lung cancer.
The Hospital has been a pioneer in developing and implementing this technology with a comprehensive program combining basic and translational research (Immunology and Immunotherapy Program) with the clinical application of new therapeutic approaches (Hematology-oncology Program).
Recently, as a further step in its specialization, the Hospital set up the Cellular Therapy Area, with the technology and facilities necessary for the manufacture of all the different immunotherapy products related to adaptive cell therapy.
Lung cancer is the epitome of a tumor requiring personalized treatment. Proper diagnosis entails molecular selection of the tumor using laboratory technology, meaning patients can be offered therapy options targeting the specific alterations determined using these types of analyses.
Consequently, these strategies provide maximum benefit and minimum risk of side effects in up to 20% of cases.
The Hospital works in close collaboration with CIMA Lab Diagnostics, with the installations and technology necessary for the analysis of biomarkers (predictive and/or diagnostic) that make personalized treatment possible for the main tumor types.
Proton therapy against cancer
Proton therapy is the most precise external radiotherapy modality, providing better distribution of radiation dose and therefore less irradiation of healthy tissues.
The Proton Therapy Unit of the Cancer Center Clínica Universidad de Navarra in its Madrid headquarters is the most advanced in Europe and the first in a Cancer Center, with all its healthcare, academic and research support.
Where do we treat it?
IN NAVARRE AND MADRID
The Lung Cancer Area
of the Cancer Center Clínica Universidad de Navarra
The Lung Cancer Area is made up of specialists in Pneumology, Medical Oncology, Radiation Oncology, Thoracic Surgery, Radiology, Nuclear Medicine and Pathological Anatomy, as well as researchers from the Solid Tumors and Biomarkers Program at the Summit.
The diagnostic process integrates tumor molecular biology to achieve the most complete diagnosis possible.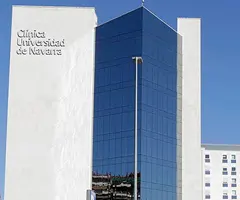 Why at the Clinica?
Integral evaluation of the patient.
Possibility of beginning personalized treatment 48 hours after the first consultation.
Minimally invasive surgery for the prompt recovery of our patients.
Our team of professionals