Multiple myeloma and other monoclonal gammopathies
"Our goal is to provide a precise diagnosis and early treatment to cure myeloma".
DR. JESÚS SAN MIGUEL
SPECIALIST. HAEMATOLOGY AND HAEMOTHERAPY DEPARTMENT
Monoclonal gammopathies and multiple myeloma are a group of diseases in which there is a proliferation of plasma tumor cells in the bone marrow and an increase in a monoclonal protein in the blood and/or urine.
Multiple myeloma is the second most common hematological tumor after lymphomas. The treatment of this disease has changed dramatically in recent years thanks to the development of new therapies, such as the approval of 5 new drugs that have managed to double the survival rate of myeloma patients.
We are a reference center of the Spanish Myeloma Group for diagnosis, receiving 3 or 4 cases every day.
We are also a reference center for preclinical research into new treatments at the Cima Universidad de Navarra, the Clinic's Medical Research Center, in collaboration with different pharmaceutical companies, and a training center for more than 100 foreign doctors who come to our hospital each year for training.
At the Clinica Universidad de Navarra we offer personalized treatment and follow-up. The drugs administered and the intensity are individualized according to the characteristics of each patient.

Second Opinion,
peace of mind
Request a second opinion from our professionals with great experience in the diagnosis and treatment of oncological diseases
In 3 days, without leaving home.
What are the symptoms of multiple myeloma?
Types of myeloma:
Monoclonal gammopathy of undetermined significance: the most common form. A benign entity characterized by the presence of monoclonal protein in the blood or urine due to a small proliferation of plasma cells, without other abnormal changes. Only 11% of these cases progress to multiple myeloma.
Asymptomatic to quiescent myeloma: in this case, there are more tumor cells in the bone marrow and a greater number of monoclonal protein cells in the blood and/or urine, but no symptoms have yet appeared. Evolution of the disease is uncertain. Some behave like a benign monoclonal gammopathy, whereas others evolve into an active form of myeloma. The latter are high-risk patients.
Multiple myeloma: in cases of multiple myeloma, patients already have symptoms such as anemia, bone lesions, kidney failure or increased calcium in the blood and other abnormal results in blood or radiological tests that require immediate treatment
Disease symptoms stem from the uncontrolled proliferation of plasma cells in the bone marrow. These cells displace normal cells, resulting in anemia and its associated symptoms: fatigue, pallor, tachycardia, hot flushes, etc.
Bone destruction also occurs, which may cause intense bone pain and even spontaneous fractures or fractures due to minimal trauma.
Atypical cells also produce and secrete an abnormal immunoglobulin into the blood (monoclonal component or band), which can lead to kidney failure as the kidney works to filter it out of the blood.
The most common symptoms are:
Bone pain

Changes in blood test results

Kidney problems

Recurrent infections
Do you have any of these symptoms?
You may have multiple myeloma
Integrated and precision diagnostics with cutting-edge technology
We offer personalized medicine by carrying out a comprehensive genetic and phenotypic diagnosis to give each patient the treatment designed to get the best-possible results.
Flow Citometry is a vital instrument for the diagnostic and prognostic evaluation of monoclonal gammopathies. This tool makes it possible to precisely determine certain markers in myeloma plasma cells to guide diagnosis and prognosis.
We have pioneered the way in developing the most sensitive methods for detecting minimal residual disease to ensure greater precision for monitoring the effectiveness of treatments.
The genetic classification of myeloma is critical for establishing a proper prognosis.
Mutations and sequencing studies make it possible to detect unfavorable mutations in patients where other tests are normal, therefore guiding the use of certain treatments.
Karyotype

FISH in selected plasma cells

Mutation panel

Mass sequencing studies
Positron emission tomography (PET): performed with glucose and methionine. This second radiopharmaceutical has a higher diagnostic sensitivity for myeloma.
Whole-body CT scan with low-dose radiation: produces high-quality images with a greater sensitivity than conventional radiography.
3 tesla MRI: the most powerful MRI available, which achieves the highest diagnostic image accuracy possible.
How do we treat multiple myeloma?
For patients under 70 who meet the criteria, the ideal treatment would be an autologous bone marrow transplant.
Four or five cycles of induction treatment are performed with new drugs (bortezomib, thalidomide, lenalidomide, etc.) and then an autologous transplant is performed.
After this treatment, new drugs can be administered to strengthen and maintain the response to the disease.
If the patient is not a candidate for an autologous bone marrow transplant, the treatment indicated is the administration of alkylating agents: melphalan, prednisone, etc. This was the standard treatment a few years ago, but it is now complemented with these new drugs:
Monoclonal antibodies such as daratumumab and isatuximab, BCMA bispecific antibodies.

New immunomodulators: pomalidomide, lenalidomide, etc.

Next-generation proteasome inhibitors: oprozomib, carfilzomib, etc.

Other selective inhibitor drugs: venetoclax, selinexor, panobinostat, etc.
We have more than 30 ongoing trials at all stages of the disease and with all the different drugs being evaluated for myeloma, as well as autologous and allogeneic transplantations:
CAR T cells versus BCMA
Monoclonal antibodies:
Daratumumab

Isatuximab

BCMA bispecific antibodies
Next-generation proteasome inhibitors
New immunomodulators
Pomalidomide

CELMoDs, third-generation immunomodulatory drugs
New alkylating agents
Checkpoint inhibitors
Other drugs (selective inhibitors)
Venetoclax

Selinexor

Panobinostat
What clinical trials do we have on myeloma and other monoclonal gammopathies?
A multidisciplinary team of renowned prestige being at the forefront
Advanced Therapy Unit
The Advanced Therapies Unit of Clínica Universidad de Navarra has been established in order to deal exclusively with cellular therapies against cancer and other diseases of the immune system, favouring their administration and seeking to increase the safety of these treatments.
A multidisciplinary team of highly specialised nurses together with physicians from all the specialities involved in the approach to those treatments that depend on advanced therapy drugs and immunotherapy
Where do we treat it?
IN NAVARRE AND MADRID
The Hematology and Hemotherapy Service of the
at the Clínica Universidad de Navarra
The Hematology Service of the Clinic, formed by specialists of recognized national and international prestige, has integrated molecular diagnostic techniques and the use of new personalized treatments in its assistance work, allowing a more precise and fast diagnosis of the hematological diseases.
The joint work of the medical staff and the researcher facilitates the development and application of the new treatments and at the same time the precise evaluation of the result of the treatments.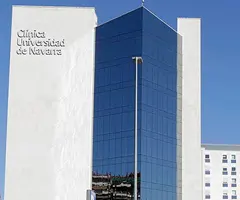 Why at the Clinica?
Experts in the development of Cellular Therapy treatments.
International reference center in lymphomas, multiple myeloma and monoclonal gammopathies.
Experts in the diagnosis and treatment of hemorrhagic and thrombotic problems.
Our team of professionals
THE TARGET OF MULTIPLE MYELOMA
Multiple Myeloma Research Group
Our research group at the Cima Universidad de Navarra, made up of internationally renowned researchers, seeks new therapeutic alternatives to treat multiple myeloma.
One of our research lines is focused on identifying resistance biomarkers and potential therapeutic targets for multiple myeloma.