Myeloid neoplasms or myelodysplastic syndromes
"We have the most sophisticated developments, such as molecular biology studies, to assess the multiple prognostic factors that are essential for selecting the most appropriate treatment for each patient."
DR. PAULA RODRÍGUEZ OTERO
SPECIALIST. HAEMATOLOGY AND HAEMOTHERAPY DEPARTMENT
What is myelodysplastic syndrome?
Myeloid neoplasms or myelodysplastic syndromes are a group of diseases in which immature blood cells, which are produced in the bone marrow and which under normal conditions would mature into red blood cells, white blood cells or platelets, are unable to differentiate and do not evolve into healthy blood cells.
The diagnosis and treatment of these diseases, at present, requires a multidisciplinary approach in which molecular diagnostic techniques are used, which are the basis of an accurate diagnosis; the identification of the risk of this disease for each patient and the possibility of designing a personalized treatment that guarantees the best response to the disease.
At the Clínica Universidad de Navarra you will have access to the most modern and precise diagnostic methods. You will have a group of different professionals (hematologists, experts in bone marrow transplantation and cell therapy, geneticists, cytometrists, etc.) whose sole objective will be to find the personalized treatment for your disease.

Second Opinion,
peace of mind
Request a second opinion from our professionals with great experience in the diagnosis and treatment of oncological diseases
In 3 days, without leaving home.
It is characterized by the uncontrolled proliferation of myeloblasts that progressively invade the bone marrow.
Myeloblasts are very immature abnormal white blood cells that are not able to differentiate into more mature forms (red blood cells, granulocytes and platelets, so it is very typical that these patients present with anemia, infections and low platelets).
It represents 40% of all leukemias in the western world and the incidence in Spain is estimated at 4 new cases per 100,000 inhabitants/year.
It is typical of the adult population and is characterized by a rapid progression with an accumulation of numerous myeloblasts, which requires immediate diagnosis and treatment.
Myelodysplastic syndromes are a group of diseases originating in the hematopoietic stem cell that are characterized by an abnormal production (dysplastic) both in number, maturation or functioning of the differentiated myeloid cells.
These patients usually present with anemia, as well as with recurrent infections and bleeding. Approximately one third of patients with myelodysplastic syndromes progress to acute myeloblastic leukemia. This is why in the past they were known as preleukemia.
Its incidence in the general population is five new cases per 100,000 people and increases as age increases.
We do not know why myelodysplastic syndromes appear but, in most cases, they are acquired diseases related to aging or due to exposure to toxic substances such as benzene or treatments such as radiotherapy and/or chemotherapy, among others.
They are a group of neoplasms originating in the hematopoietic stem cell characterized by the proliferation of myeloid lines (erythrocytes, granulocytes and platelets).
Usually, they are accompanied by a greater or lesser degree of medullary fibrosis, probably secondary to the high neoplastic proliferation, as well as splenomegaly (large spleen).
These are chronic diseases with a tendency to evolve either to global spinal cord failure or to acute myeloblastic leukemia.
Do you have any of these diseases?
We are a national reference center in the diagnosis and treatment of myeloid neoplasms
We offer personalized medicine by performing a comprehensive genetic and phenotypic diagnosis to give each patient the treatment that can get the best results.
Genetic studies
The genetic classification of myeloid neoplasms is fundamental to establish an adequate prognosis.
The new techniques of high performance sequencing have become in recent years essential for prognosis and, in some cases, for finding targeted therapies.
Karyotype.

FISH in selected plasma cell.

Mutations panel.

Massive sequencing studies.
Flow Cytometry
Flow cytometry studies require the use of new cytometers that allow the simultaneous analysis of a greater number of proteins in the tumor cells, and characterize the leukemic phenotype.
Cytometry is essential to establish the diagnosis and to monitor the disease since it allows to know precisely the markers presented by the myeloblast in order to make a precise diagnosis and it can be used at the moment of the response to evaluate the persistence of minimal residual disease.
How are myelodysplastic syndromes treated?
Access to the most advanced treatments
The Clinica Universidad de Navarra offers you highly experienced experts, which guarantees that you will receive an integral treatment against your myeloid neoplasm.
We offer you a wide range of clinical trials with new drugs, immunotherapy treatments or combinations of new agents with immunotherapy.
Our experience in bone marrow transplantation, both autologous and allogeneic, haploid or unrelated, allows us to take a comprehensive approach from the moment of diagnosis, increasing the chances of success of your treatment.
Identification of new mechanisms that contribute to the development of these diseases and to design new drugs that target these mechanisms.

We have developed new active compounds in the treatment of acute leukemia and established new mathematical algorithms that have allowed us to identify new targets.

Design and implementation of new genomic diagnostic techniques that allow us to establish a more precise prognosis in each patient and at the same time define specific treatments.

We have contributed to establish the panels for the study of mutations in patients with myeloid neoplasms that are currently used nationwide.

Studies on the role of minimal residual disease by flow cytometry for monitoring the disease, mainly acute myeloblastic leukemia.
What clinical trials do we have on síndromes mielodisplásicos?
Where do we treat it?
IN NAVARRA AND MADRID
The Hematology and Hemotherapy Service of the
at the Clínica Universidad de Navarra
The Hematology Service of the Clinic, formed by specialists of recognized national and international prestige, has integrated molecular diagnostic techniques and the use of new personalized treatments in its assistance work, allowing a more precise and fast diagnosis of the hematological diseases.
The joint work of the medical staff and the researcher facilitates the development and application of the new treatments and at the same time the precise evaluation of the result of the treatments.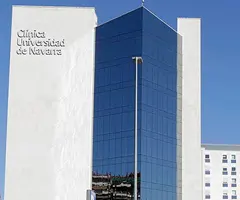 Why at the Clinica?
Experts in the development of Cellular Therapy treatments.
International reference center in lymphomas, multiple myeloma and monoclonal gammopathies.
Experts in the diagnosis and treatment of hemorrhagic and thrombotic problems.
Our team of professionals