Paraneoplastic Neurological Syndrome
"Early recognition of these syndromes is very important because they allow early diagnosis of the tumor and because they require vigorous treatment".
DR. JAIME GÁLLEGO
COORDINATOR. CENTRAL NERVOUS SYSTEM TUMORS AREA
What is paraneoplastic neurological syndrome?
Paraneoplastic neurological syndromes are a rare complication of cancer.
In some patients with an incipient cancer (lung, breast, lymphoma, ...) the body itself detects the tumor cells and triggers an immune response to try to eliminate them.
Sometimes this immune response not only attacks the tumour cells but, erroneously, also attacks the nervous system.
The Clínica Universidad de Navarra has a Multidisciplinary Area of Tumors of the Central Nervous System​​​​​​​ with a great availability of human and technical resources. This allows, from the multidisciplinary approach, to offer the patient the best possible treatment, and above all, to dedicate the necessary time to it. In this way we can offer personalized medicine.

Second Opinion,
peace of mind
Request a second opinion from our professionals with great experience in the diagnosis and treatment of oncological diseases
In 3 days, without leaving home.
What are the symptoms of paraneoplastic neurological syndrome?
Symptoms and neurological signs appear very varied (memory and behavior disorders, epileptic seizures, sensory or motor disorders, balance or visual disorders ...) and in turn very disabling.
What diseases does the patient have?
Memory disorders.

Epileptic seizures.

Sensitive disorders.
Do you have any of these symptoms?
You may have a paraneoplastic neurological syndrome
How is paraneoplastic neurological syndrome diagnosed?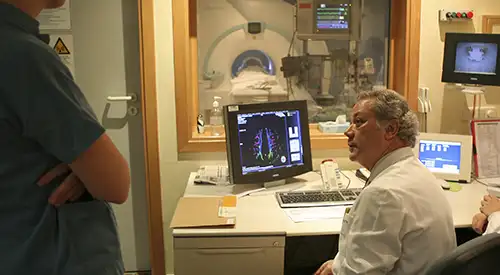 To diagnose a paraneoplastic neurological syndrome, we must rely on a set of data that, in addition to immunological markers, includes the clinic, the diagnosis of the tumor, the latency between neurological and oncological disease, neuroimaging, analysis of the cerebrospinal fluid by means of a lumbar puncture and the response of the neurological syndrome to the treatment of the tumor.
In patients already diagnosed with cancer and who present a neurological picture, it is indispensable before making the diagnosis of a paraneoplastic neurological syndrome to rule out other much more frequent causes such as metastasis, medical effects, etc.
How is paraneoplastic neurological syndrome treated?
The main treatment for paraneoplastic syndromes is that of the tumor itself, associated with a treatment that modulates and blocks the abnormal immune response (corticoids, immunosuppressors, immunoglobulins, plasma exchange...).
Where do we treat it?
IN NAVARRA AND MADRID
Central Nervous System Tumors Area
of the Cancer Center Clínica Universidad de Navarra
In the Central Nervous System Tumors Area we offer maximum safety and efficiency in brain tumor surgery, being the first hospital with a high field magnetic resonance within the operating room.
We have a highly specialized team in the surgery of brain tumors, with more than 15 years of experience.
The individualized treatment of each case by an interdisciplinary team allows us to offer the best alternative to each patient.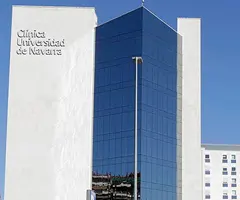 Why at the Clinica?
Integral evaluation of the patient.
Cutting edge technology.
Expert professionals who are a national reference.
Our team of professionals
Brain tumor specialists with experience in the treatment of paraneoplastic neurological syndrome