Central Nervous System Lymphoma
"They represent 4% of intracranial tumors and the average age of presentation is 60 years".
DR. JAIME GÁLLEGO
COORDINATOR. CENTRAL NERVOUS SYSTEM TUMORS AREA

Primary brain lymphomas are a rare type of brain tumor.
These tumors originate from lymphocytes (which are normal cells of the blood and lymphatic system) and, for reasons as yet unknown, their location is restricted to the brain.
The Clinica Universidad de Navarra has a Multidisciplinary Area of Tumors of the Central Nervous System which it places at your complete disposal. We deal with the diagnosis, treatment and follow-up of various brain tumors, both those classified as malignant and benign.

Second Opinion,
peace of mind
Request a second opinion from our professionals with great experience in the diagnosis and treatment of oncological diseases
In 3 days, without leaving home.
What are the symptoms of brain lymphoma?
The telltale symptoms of the disease are often insidious and unspecific.
The most frequent are focal neurological deficits (such as loss of strength in the extremities on one side, language or vision disorders, etc...), changes in character and behavior, and patterns of increased intracranial pressure (headache with intense vomiting and blurred vision).
The most common symptoms are:
Loss of strength in the extremities.

Changes in character and behavior.

Headache.
Do you have any of these symptoms?
You may have central nervous system lymphoma
How is lymphoma of the brain diagnosed?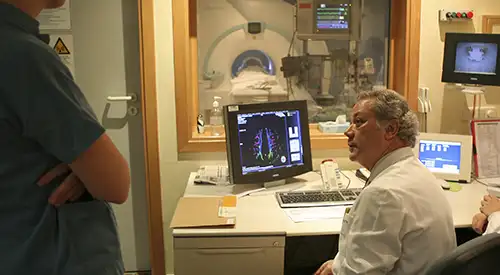 For the diagnosis of cerebral nervous system (CNS) lymphomas, a neuroimaging test is performed (a scan or magnetic resonance imaging with contrast injection) that reveals the existence of a lesion, although it will be necessary to obtain a sample of the tumor to establish the definitive diagnosis.
In addition, it is recommended to carry out a lumbar puncture for analysis of the cerebrospinal fluid, as well as a magnetic resonance of the spinal cord and an ophthalmological examination to know the real extension of the cerebral lymphoma.
In order to rule out a "systemic" lymphoma (that is, a lymphoma that has originated in another part of the body and has subsequently invaded the brain), it is necessary to complete the study with a scan and/or body PET, a testicular ultrasound and a bone marrow biopsy.
How is brain lymphoma treated?
Primary brain lymphomas are infiltrating and diffuse tumors. Therefore, surgery is indicated to obtain a sample and confirm the diagnosis (biopsy), but complete resection of the tumor is not necessary since it does not interfere with the prognosis. It is only performed when it is necessary to quickly relieve the symptoms or signs.
The treatment of primary brain lymphomas consists, according to the particular characteristics of each patient, of chemotherapy and radiotherapy.
Where do we treat it?
IN NAVARRE AND MADRID
Central Nervous System Tumors Area
of the Cancer Center Clínica Universidad de Navarra
In the Central Nervous System Tumors Area we offer maximum safety and efficiency in brain tumor surgery, being the first hospital with a high field magnetic resonance within the operating room.
We have a highly specialized team in the surgery of brain tumors, with more than 15 years of experience.
The individualized treatment of each case by an interdisciplinary team allows us to offer the best alternative to each patient.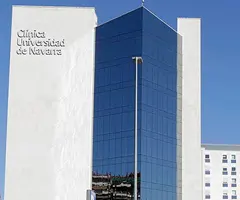 Why at the Clinica?
Integral evaluation of the patient.
Cutting edge technology.
Expert professionals who are a national reference.
Our team of professionals