Pleural Mesothelioma
"We perform surgery with curative intent after properly selecting patients through a multidisciplinary session with the departments of Thoracic Surgery, Medical Oncology, Radiation Oncology and Pneumology".
DR. MARÍA RODRÍGUEZ PÉREZ
COORDINATOR. LUNG CANCER AREA
Mesothelioma is a rare cancer in which cancer cells invade the pleura (membrane covering the lungs).
It constitutes approximately 3% of malignant pleural neoplasms and, when its diagnosis is confirmed, its course is usually fatal in the long term.
We have an Area of Lung Cancer that coordinates the medical teams involved to achieve more precision, better diagnosis, reduces its cost (avoids duplication of tests/explorations) and makes a specific therapeutic offer for each patient in less time.

Second Opinion,
peace of mind
Request a second opinion from our professionals with great experience in the diagnosis and treatment of oncological diseases
In 3 days, without leaving home.
What are the symptoms of pleural mesothelioma?
The most frequent clinical presentation is diffuse chest pain, which can be pleuritic or radiating to the shoulder accompanied by pleural effusion.
Dyspnea, cough, weakness, discomfort and fatigue are also often associated with this disease.
The most common symptoms are:
Diffuse chest pain.

Cough.

Dyspnea (difficulty in breathing).
Do you have any of these symptoms?
You may have mesothelioma cancer
What are the causes of mesothelioma?
In 80% of cases, its etiology is exposure to asbestos dust, with a latency period of 20 to 40 years from the beginning of exposure.
Other possible causes of mesothelioma are radiotherapy and some types of virus.
Who can get mesothelioma?
It is more frequent in men than in women, being the age of appearance more frequent between 50 and 70 years old.
How is pleural mesothelioma diagnosed?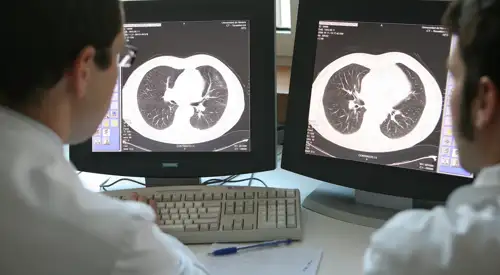 The diagnosis of pleural mesothelioma is evident when pleural thickening is found surrounding the lung, trapping it and attaching it to the mediastinum.
The diagnosis begins with a review of the patient's medical history, followed by a complete physical examination that includes a chest X-ray and respiratory function studies.
Computed tomography (CT) and positron emission tomography (PET) scans are very useful in determining the extent and location of the injury.
A biopsy is necessary to confirm the diagnosis. Once the diagnosis is confirmed, the stage of the disease must be determined in order to proceed with the best treatment.
How is pleural mesothelioma treated?
Three types of surgery are used in the treatment of mesothelioma:
Diagnostic surgery. T

o obtain a sample for biopsy. It is performed by thoracoscopy or open pleural surgery.

Palliative surgery,

which includes pleurodesis, thoracoscopy with pleurodesis and, more rarely, pleuroperitoneal shunt.

Curative surgery

involves performing a pleuropneumonectomy or pleurectomy/decortication.
These are aggressive surgeries whose aim is to remove as much of the tumor as possible.
Treatment of pleural mesothelioma, with curative intent, involves the administration of surgery-associated chemo-radiotherapy.
Where do we treat it?
IN NAVARRA AND MADRID
The Lung Cancer Area
of the Cancer Center Clínica Universidad de Navarra
The Lung Cancer Area is made up of specialists in Pneumology, Medical Oncology, Radiation Oncology, Thoracic Surgery, Radiology, Nuclear Medicine and Pathological Anatomy, as well as researchers from the Solid Tumors and Biomarkers Program at the Summit.
The diagnostic process integrates tumor molecular biology to achieve the most complete diagnosis possible.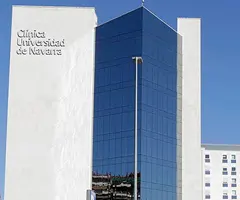 Why at the Clinica?
Integral evaluation of the patient.
Possibility of beginning personalized treatment 48 hours after the first consultation.
Minimally invasive surgery for the prompt recovery of our patients.
Our team of professionals