Gastroenteropathic or neuroendocrine tumors
"After stabilizing the patient for inappropriate hormone secretion, if there are no metastases, surgery should be attempted with curative intent, and if there are metastases, adjuvant therapy should be added".
DR. JORGE BAIXAULI
SPECIALIST. GENERAL AND DIGESTIVE SURGERY DEPARTMENT

What is a neuroendocrine tumor?
Neuroendocrine tumors of the gastroenteropancreatic system are rare. They originate in the diffuse endocrine system of the gastrointestinal tract (carcinoid tumors) and in the pancreas (island tumors).
Neuroendocrine or gastroenteropancreatic tumors can be carcinoid in 70% and pancreatic in 20% of cases.
They can be functional (50%) or non-functional, benign or malignant depending on the existence of metastatic disease (50-60%). Except for insulinoma (less than 10%), many neuroendocrine tumors are malignant (50-60%) and even higher percentages, especially those with lymph node, liver (the most common), bone (12%), lung (4%) and brain metastases.
These tumors are difficult to diagnose because they are usually very small. In the Clínica Universidad de Navarra we have a Radiopharmaceutical Laboratory, the only one in Spain, which is capable of synthesizing the necessary compounds to diagnose these tumors with maximum accuracy by means of imaging tests.

Second Opinion,
peace of mind
Request a second opinion from our professionals with great experience in the diagnosis and treatment of oncological diseases
In 3 days, without leaving home.
What are the symptoms of gastroenteropathic tumors?
The clinical manifestations are very heterogeneous, since the tumors can remain asymptomatic for years or present obstructive symptoms (abdominal pain, nausea, vomiting, cholestasis) or metastases, which are found accidentally or are manifested by typical syndromes due to hormonal hypersecretion.
In most cases the risk of developing metastasis is increased due to vagueness of symptoms and delay in diagnosis (average, 3-10 years).
The most common symptoms are:
Diarrhea.

Abdominal pain.

Nausea.

Waves of heat.

Profuse sweating.
Do you have any of these symptoms?
You may have a gastroenteropathic tumor
Neuroendocrine intestinal tumors
Small bowel NERs have an incidence of 0.15-0.5 cases/100,000 per year.
Until the onset of metastases are usually asymptomatic or may present with symptoms of obstruction due to local fibrotic reaction or, rarely, the tumor mass itself.
At this stage, the typical picture is that of carcinoid syndrome which occurs in 18% of patients with ileal carcinoid and is characterized by heat waves, diarrhea, abdominal pain.
Less frequent are lacrimation, profuse sweating, telangiectasias, cardiac fibrosis and pelagroid skin manifestations due to niacin deficiency.
Pancreatic neuroendocrine tumors
Endocrine tumors of the pancreas can present as typical syndromes caused by hormonal hypersecretion (insulinoma, gastrinoma, VIP-oma (VIP: vasointestinal polypeptide, glucagonoma and somatostatinoma).
40-50% of them are non-functional or secrete low biological impact peptides, such as pancreatic polypeptide and neurotensin. Approximately 50% of the cases already have metastases in the diagnostic stage.
Insulinoma and gastrinoma are the most frequent pancreatic NERs.
90% of insulinomas are benign, small in size (>90% are < 2 cm) and single (6-13% are multiple). 4-6% are associated with MEN-1 (multiple endocrine neoplasia type 1). Clinically they are characterized by fasting hypoglycemia and neuroglucopenic symptoms. In general, catecholamine release induced by hypoglycemia produces symptoms such as sweating, tremor and palpitations.

The chronic hypergastrinemia caused by gastrinoma results in marked gastric hypersecretion that eventually causes peptic ulcer disease (which is usually refractory and severe), diarrhea, and gastroesophageal reflux disease (Zollinger and Ellison syndrome).
How are neuroendocrine tumors diagnosed?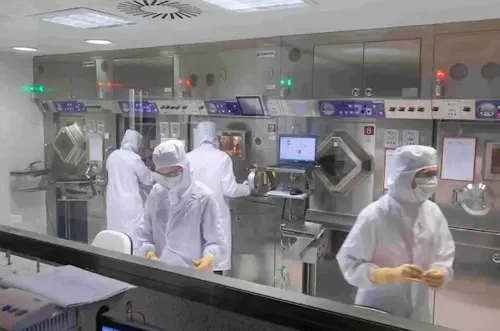 For the diagnosis and monitoring of these tumors there are several tumor markers in the circulation or urine.
Gastrointestinal tumors are usually studied using endoscopic techniques and endoscopic ultrasound.
Tumors of the small intestine may require, in addition to conventional radiographs (intestinal studies with barium contrast), the use of newer techniques such as double-balloon enteroscopy and videoendoscopic capsule.
Both carcinoid and pancreatic tumors can be studied using computerized tomography and magnetic resonance imaging, which make it possible to define the extent of the metastases and evaluate the response to treatment.
Our radiopharmaceutical laboratory is the only one in Spain that synthesizes the necessary compounds to accurately diagnose these tumors.
How are gastroenteropathic or neuroendocrine tumors treated?
The medical treatment depends on the high or low differentiation shown by the tumor.
Working tumors are usually well differentiated and the first therapeutic objective is symptom control. Due to the slow growth of these tumors, with a relatively long life expectancy, it is important to achieve a good quality of life for the patient.
The treatment of gastrinomas is based on the use of proton pump inhibitors, in doses ranging from 40-60 mg/day to 120 mg/day.
Insulinomas are treated with diazoxide associated with hydrochlorothiazide; if this treatment is not effective, calcium channel blockers, ß-blockers and glucocorticoids can be used.
For other well-differentiated tumors, treatment consists of SSAs (somatostatin analogs), interferon and, more recently, targeted therapy. SSAs allow control of the given symptoms caused by the hormones and should be used both preoperatively and for inoperable tumors.
In practice, octeotride and lanreotide are used. Interferon A in monotherapy or combined with SSAs can be used to inhibit hormone hypersecretion and stabilize the disease. The indications for interferon are the same as for SSAs in gastrointestinal NERs, except for carcinoid crises.
In cases with advanced disease, treatment can be carried out with somatostatin analogues, interferons, both, or even chemotherapy or radiotherapy with octreotide derivatives, when the octreoscan is positive.
Where do we treat it?
IN NAVARRA AND MADRID
The Gastrointestinal Cancer Area
of the Cancer Center Clínica Universidad de Navarra
The Gastrointestinal Cancer Area is composed of a multidisciplinary team of experts in the diagnosis and treatment of diseases of the digestive tract.
It includes specialists in the digestive system, radiology, pathological anatomy, surgery and medical and radiotherapeutic oncology and nursing support.
What diseases do we treat?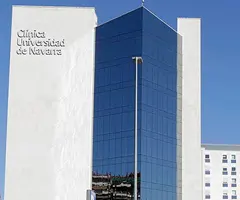 Why at the Clinica?
Integral evaluation of the patient.
Cutting edge technology.
Expert professionals who are a national reference.
Our team of professionals