Proton therapy for esophageal cancer
High-dose radiation in an area of high complexity for esophageal cancer
Proton therapy is considered the best option for treating esophageal cancer with external radiation therapy.
Because of its anatomical location, treating esophageal cancer with radiation therapy is highly complex. The proximity to vital structures such as the lungs, trachea, heart or spinal cord makes treatment with conventional radiotherapy increase the risk of short and long-term effects.
The ability of protons to treat the tumor with high doses of radiation, with minimal effect on healthy tissues near the heart, makes proton therapy the gold standard for treating these tumors.
Do you need us to help you?
Do you want to learn if your patient is a candidate for proton therapy?
Complete this form and our specialists will contact you to discuss the case.
Indications for proton therapy in esophageal cancer
Targeted treatment with high doses of radiation improves the treatment outcome and is an option even for inoperable tumors.
Proton therapy sessions have a total duration of 20-30 minutes, although the proton beam duration is only 1-2 minutes.
Treatment usually takes about 7 weeks, depending on the type and extent of the tumor.
Esophageal adenocarcinoma.
Tumors of the gastroesophageal duct.
Squamous cell esophageal carcinoma.
Main advantages of proton therapy in esophageal tumors
The most advanced and precise radiotherapy, especially effective in hard-to-reach esophageal tumors
Lower toxicity
Tolerance to treatment is better with proton therapy and most patients can get back into their routine, even for the duration of their treatment.
Greater precision
In selected cases, proton therapy, due to its precision, is an option for recurrent tumors in areas previously treated with conventional radiotherapy.
Greater control
It allows the release of high doses of radiation while preserving healthy tissues and surrounding vital organs (heart, lungs and spinal cord).
The technology of the Clinic
Multi energy system: It changes the energy very quickly for the sweeping of the next treatment layer.
The brush beam: This is the most advanced version of proton therapy administration, with a great capacity to surround the tumor in a half circle shape, adjusting the dose and reducing the involvement of healthy tissue and, therefore, the risk of damaging nearby vital organs.
Cone beam tomograph: in a 360º gantry, the integrated TAC allows the exact verification of the situation of the tumour on the day of the treatment.
Why at the Clínica Universidad de Navarra
Most esophageal tumors require a combination of therapies consisting of surgery -including robotic surgery-, chemotherapy and external radiotherapy, which are available at the Cancer Center Universidad de Navarra.

Reference Center
The Clínica Universidad de Navarra is an international reference center in the diagnosis and treatment of cancer, offering patients and their families access to an interdisciplinary approach to esophageal cancer.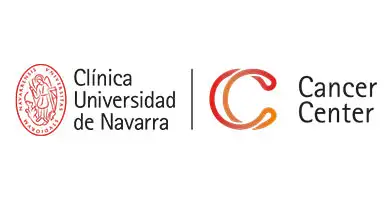 A unique concept
First facility in Spain integrated in an Intrahospital Cancer Center, with all its assistance, academic and research support.

Advanced technology
As a highly complex center, we have the most advanced technology for the most accurate diagnosis in the shortest time possible.