Proton therapy for breast cancer
High doses of radiation in a highly complex area to treat breast cancer
Proton therapy is a treatment whose application in breast cancer is under development, although some studies suggest that it is a highly efficient alternative for patients with types of breast cancer that have an indication for radiotherapy.
Many breast tumours are treated in combination with other therapies, such as surgery, chemotherapy, hormone therapy, external and intraoperative radiotherapy. The main advantage of proton therapy is that it reduces the amount of irradiation of the surrounding healthy tissues and avoids undesirable effects on critical organs nearby the breast, such as the skin, heart and lungs, as well as avoiding short and long-term effects on the lymphatic vessels.
The Breast Cancer Area of the Cancer Center Clínica Universidad de Navarra counts on highly qualified specialists in oncoplastic surgery techniques and breast reconstruction, in the administration of the latest therapies, such as immunotherapy, and innovative treatments aimed at improving the patient's quality of life.
Do you need us to help you?
Do you want to learn if your patient is a candidate for proton therapy?
Complete this form and our specialists will contact you to discuss the case.
Indications for proton therapy in breast cancer
Inflammatory breast cancer.

Recurrent breast cancer.

Triple negative breast cancer.

Ductal carcinoma in situ.

Invasive ductal carcinoma.

Invasive lobular carcinoma
In selected cases of recurrent breast tumours, proton therapy is a treatment of choice for those patients who have already received conventional radiotherapy in the area that is close to the reappearance of the tumour.
Proton therapy allows for more customised dosimetric distributions in patients with breast reconstruction after mastectomy.
Main advantages of proton therapy in breast tumours
La radioterapia más avanzada y precisa, especialmente efectiva en el cáncer de mama por su localización, rodeada de estructuras vitales.
Less toxicity
Minimizes damage to healthy tissue and adverse effects on the surrounding critical organs (heart and lung) and lymphatic vessels. In addition, it ensures a lower risk of short and long-term radio-induced complications, such as secondary tumours.
Higher precision
In certain cases, for those patients who were previously treated with radiotherapy in the thoracic cage (lungs, lymphoma or other breast cancers), proton therapy becomes an effective treatment of choice due to its ability to avoide damage to the surrounding healthy tissue.
Greater control
In patients with tumours in the left breast, proton therapy drastically reduces the exposure of the heart and the coronary vessels. It is an ideal treatment for patients who also suffer from heart problems.
The technology of the Clinic
Multi energy system: It changes the energy very quickly for the sweeping of the next treatment layer.
Pencil beam scanning: This is the most advanced version of proton therapy administration and is especially interesting in breast cancer. Its advantage is the capacity to enclose the tumour in a half circle, adjusting the dose and reducing the involvement of healthy tissue and, therefore, the risk of damaging surrounding vital organs.
Cone-beam tomography: in a 360º gantry, the integrated CT allows the exact verification of the condition of the tumour on the very day of the treatment.
Why at the Clínica Universidad de Navarra
Most breast tumors require a combination of treatments consisting of surgery, chemotherapy, hormone therapy and external and intraoperative radiotherapy, all of which are available at the Cancer Center Clínica Universidad de Navarra.

Reference Center
The Clínica Universidad de Navarra is an international reference center with a team of professionals highly specialized in the diagnosis and treatment of breast cancer.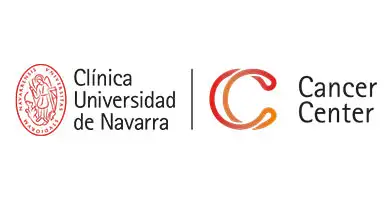 A unique concept
First facility in Spain integrated in an Intrahospital Cancer Center, with all its assistance, academic and research support.

Advanced technology
As a highly complex center, we have the most advanced technology for the most accurate diagnosis in the shortest possible time.