Proton therapy for brain and head and neck tumours
The most precise external radiotherapy that minimises unnecessary adverse effects on such delicate structures as the brain, head and face.
Proton therapy for brain tumours and head and neck tumours is an alternative to the treatment of external radiotherapy for these types of tumours that, due to their location, should receive a minimum dose of radiation in order to avoid adverse effects that may cause significant alterations in the quality of life of patients.
Malignant and benign tumours, most of them very rare, usually appear at the base of the skull and in the neck. The latter, although not malignant, can affect the patient's quality of life and can even jeopardise the patient's life.
Most of these tumours are treated with surgery, radiotherapy and different types of chemotherapy. Due to their location, often difficult to access surgically and their proximity to organs and structures that are sensitive to radiation, proton therapy is an alternative indication for brain tumours and head and neck tumours to conventional radiotherapy, which offers greater safety for the patient.
Do you need us to help you?
Do you want to learn if your patient is a candidate for proton therapy?
Complete this form and our specialists will contact you to discuss the case.
Indications for proton therapy for brain and head and neck tumours
Skull Base Tumors: sarcomas, chondrosarcomas, rhabdomyosarcomas, osteosarcomas, meningiomas, schwannomas, trigeminal and acoustic neurinomas, pituitary adenoma.
Head and Neck Tumours: paranasal sinuses, nasopharynx, oropharynx (tonsils, soft palate, base of tongue), hypopharynx, larynx, oral cavity, tongue and salivary glands.
Brain tumours: arteriovenous malformations, craniopharyngiomas, meningiomas, gliomas (high grade, low grade and recurrent), pineal tumours, ependymomas, medulloblastoma.
Recurrent brain tumours: in selected cases, proton therapy can be a treatment of choice for recurrent brain tumours that have been previously treated with conventional radiotherapy.
Marrow: chordomas, rhabdomyosarcomas, neurofibrosarcomas, malignant schwannomas, fibrosarcomas, leiomyosarcomas.

Ocular melanoma.

Soft tissue sarcomas.
Main advantages of proton therapy for brain and head and neck tumours
As a highly complex medical centre, we are equipped with the latest technology for the most accurate diagnosis and treatment of brain, skull base, head and neck tumours in the shortest possible time.
Less toxicity
It preserves, in most patients, functions such as vision, salivation, taste, smell and hearing. It avoids the need for a feeding tube because it minimises the area of inflammation of the digestive mucous membranes.
Greater precision
It releases high doses of radiation in a more precise manner, reducing the treatment time and allowing most patients to return to their routine immediately after the treatment session.
Greater control
It preserves surrounding vital organs, such as the brain, eyes, ears and brain stem. A painless treatment that does not require hospital admission.
The technology of the Clinic
Multi energy system: It changes the energy very quickly for the sweeping of the next treatment layer.
Maximum treatment area: The synchrotron has a maximum treatment area of 30x40 cm, larger than any other equipment. This makes it possible to treat large areas of tumour (e.g. craniospinal tumours) and minimises unnecessary scattered irradiation of the overlapping areas, while increasing precision and reducing treatment time.
Pencil beam scanning: This is the most advanced version of proton therapy administration, especially relevant in head and neck tumours.
Cone-beam tomography: in a 360º gantry, the integrated CT allows the exact verification of the condition of the tumour on the very day of the treatment.
Why at the Clinica Universidad de Navarra
Most head and neck tumors require a combination of therapies consisting of surgery, chemotherapy, and radiotherapy (in different modalities, including intraoperative radiotherapy), which are available at the Cancer Center Clínica Universidad de Navarra.

Reference Center
The Clínica Universidad de Navarra is an international reference center in the diagnosis and treatment of cancer, and has professionals who are highly specialized in head and neck tumors.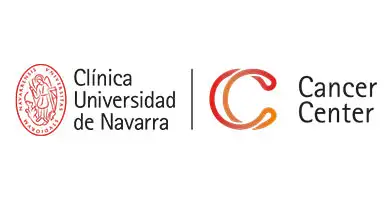 A unique concept
First facility in Spain integrated in an Intrahospital Cancer Center, with all its assistance, academic and research support.

Advanced technology
As a highly complex center, we have the most advanced technology for the most accurate diagnosis in the shortest time possible.